The Brexit trade talks between the UK and the EU have been suspended after both sides said "the terms of an agreement have not been met".
Chief negotiator of the camp Michael Barnier He and Downing Street said David Frost They agreed to "suspend" their discussions on a deal, while explaining to their bosses the status of the negotiations.
In a joint statement, Lord Frost and Mr Bornier met with European Commission President Ursula van der Leyen and the Prime Minister of the United Kingdom Boris Johnson "Discuss the status of the game" on Saturday afternoon.
It comes after a week of intense negotiations in London Night time sessions Triggered by distributions of sandwiches and pizza.
Lord Frost and Mr Barnier blamed the breakdown on talks on "significant differences in level playground, governance and fisheries."
Level sports industry refers to state subsidies and standards: The EU fears that Britain could become a less controlled economic competitor, lowering standards and providing more subsidies to its industries.
Meanwhile, Britain wants to "regain control" of Brussels and set its own economic policies.
The fishing industry is another obstacle – a small part of the European economy is large, but very important to countries like France.
The EU continues to want to fish in British waters, but Britain wants to restrict access and quotas.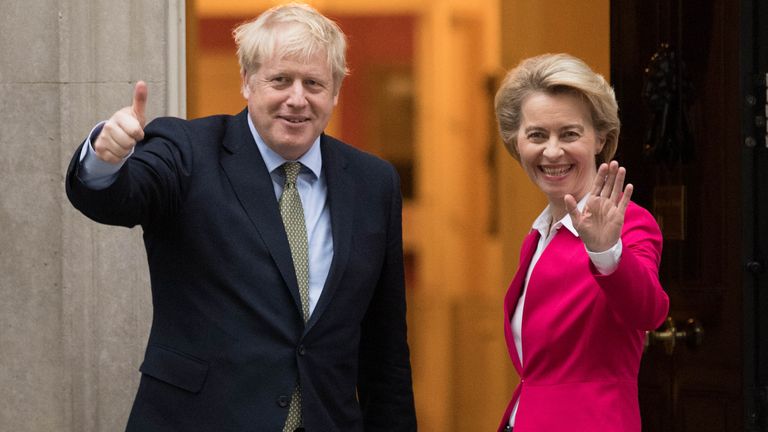 Sky assistant political editor Sam Coates said the suspension was "no doubt a significant moment" – but "not unexpected".
"Things didn't go bad in the negotiating room on Thursday, they didn't get worse (Friday), but in the issues we've been talking about for the last 12 months, the gap has not been closed," he said.
Coates said the call between Mr Johnson and Ms Van der Leyne could be "a turning point", but "both sides can agree on the possibility, and no further negotiations are needed, I said, at least."
At the end of January Britain formally left the 27-nation alliance and spent most of the year in an alternate period, without changing the rules on trade, travel and commerce.
But a trade agreement must come into force on January 1 and be approved by UK and EU politicians by the end of this year.
Without it, both sides would have to catch major disruptive fees and trade sanctions.
Charles Michael, President of the Council of Europe, said: "We will see what happens in the coming days.
"But the end of December is the end of December. We know we have January 1 after December 31. We know we need to get clarity soon."