The other ten Conservative MPs are self-isolated with the Prime Minister, one of whom tested positive for the corona virus.
Ashfield MP Lee Anderson began to enjoy Corona virus He and his wife, who were on the signs and armory team on Friday, tested positive on Sunday morning.
On Thursday morning, Mr Anderson attended a meeting Boris Johnson Five more Tory MPs on 10 Downing Street are now self-isolated.
They are MPs from Warrington South. Andy Carter, Ripple South MP Katherine Fletcher, Bassettla MP Brendan Clark-Smith, Howe and Middleton MPs. Chris Clarkson, and the Great Grimsby MP. Leah Nicky.
Live updates on the corona virus in the UK and around the world
Mr Anderson was one of five Tory MPs elected to parliament for the first time in last year's general election.
Two of the prime minister's political aides also attended, and they are self-isolated.
Marco Longi MP And Matt Vickers MP. Also announced on Monday that it would be self-isolated after receiving a text from the NHS Test and Trace service.
It is unclear whether the two were present at Thursday's meeting.
Mr Jhansi shared a video of Mr Johnson on Monday announcing that he wanted to isolate himself and wrote: "I'm afraid I have the same text, but will work from home."
Mr Vickers tweeted: "I have been in contact with NHS Track & Trace with someone who tested positive for Covid-19.
"I have to isolate myself according to the rules, but I will continue to work from home."
I was contacted by NHS Track & Trace who contacted Somon who tested positive for Govit-19.

I have to isolate myself according to the rules, but I will continue to work from home.

As always, there is nothing I can help – [email protected] Parliament.uk pic.twitter.com/DruWOr78FP

– Matt Vickers MP (att Matt_Vickers MP) November 16, 2020
Jacob Young, Redcar and Cleveland MP, and Basingstoke MP. Maria Miller is also self-isolated after it was reported Sunday that she was in contact with someone who tested positive on Sunday.
On Wednesday afternoon, Ms Miller sat next to Mr Anderson in an armed council debate.
Downing Street stressed that the 35-minute meeting between the Prime Minister and the Tory MPs saw social distant activities.
"We take all measures to ensure that the hand washing machine is available as soon as you arrive at the building, and it is available throughout the building as you travel," Mr Johnson's official spokesman said Monday.
"But as I say, it is Test and Trace's advice that factors such as the length of the meeting should be isolated by the Prime Minister himself. Of course he will follow that instruction."
When asked about a photo showing Mr Johnson and Mr Anderson standing less than two meters apart in the crowd, the spokesman said: "They are standing side by side without looking at each other."
A spokesman backed the prime minister's decision to hold the meeting almost in person, saying such meetings were allowed under current corona virus restrictions.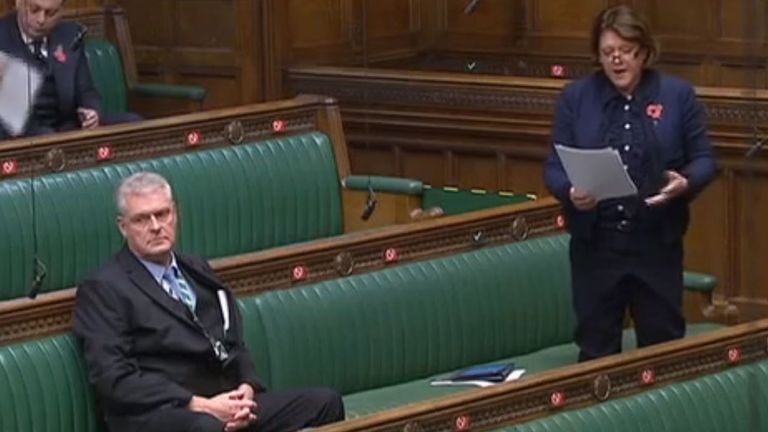 Mr Johnson, in a video posted on his Twitter account on Monday, He said he was "pinged" by the NHS Test and Trace system.
"It doesn't matter if we all did social exclusion, I fit in as a butcher dog, I feel good – many in my situation do – in fact I didn't care 'I had the disease, I was exploding with antibodies," he said.
"We need to stop the spread of the disease, and now one of the ways we can do that is by self-isolation for 14 days when you come in contact with the NHS test and TRACE."
The Prime Minister's self-isolation Following the departure of controversial chief adviser Dominic Cummings – and his communications director Lee Cain – last week, plans to "restore" his prime ministership have been thwarted.
Mr Johnson said the next two weeks would be a clear signal of his current aspirations for the country, including the Corona virus, education, economy and climate issues, which he hopes will continue to be published for the next two weeks.
The Prime Minister aimed to continue talking to the nation.
A House of Commons spokesman said: "We are closely following the Public Health UK (PHE) guidelines on where and when to confirm the case of COVID-19 in the garden.
"There is a testing and tracking system run by the NHS that Parliament continues to support through the processes we have set up. These processes enable us to respond quickly and efficiently to any identified events. All relevant contacts are advised to communicate quickly and self-isolate."